Creating a relaxed, safe environment
Feeling secure in how we live with others has never been more important. Coronavirus (covid-19) is creating a "new normal" where we are all even more mindful of our own safety and wellbeing, as well as that of the people around us.
At the University of Leeds, we are taking steps to create an environment in your accommodation where you will feel confident, relaxed and safe. These include:
This page will give you more information on each of these steps, and let you know what you can do to keep yourself and others safe.

Cleaning and good hygiene is now more important than ever. That's why we're ensuring that communal areas throughout all of our residences are being cleaned frequently throughout the day. This includes reception areas, common rooms and the communal toilets outside of individual flats. Special attention is being given to cleaning frequent touch points such as door handles, lift panels and reception area furniture.
There are also hand sanitiser stations installed throughout our residences, please make sure to use them regularly.
We will provide you with a clean room at the start of your tenancy contract period. You will be responsible for keeping your room clean and tidy and together with members of your household will be responsible for keeping the shared space within the flat clean and tidy. To assist you in keeping your flat clean in University owned and operated accommodation, staff will clean shared toilets and showers in flats weekly and they will deep clean all other shared areas within your flat (but not your own bedroom or en-suite) once during the Christmas, Easter and summer vacations.
We will continually monitor the government guidance and advice and will introduce additional cleaning services to residences if needed.
What you should do:
Regularly wash your hands with soap and water where possible, when you're not able to do this make use of the hand sanitiser stations installed throughout your residence.
Make sure to clean up after yourself in communal spaces such as kitchens and bathrooms and take out your rubbish to external bin stores regularly.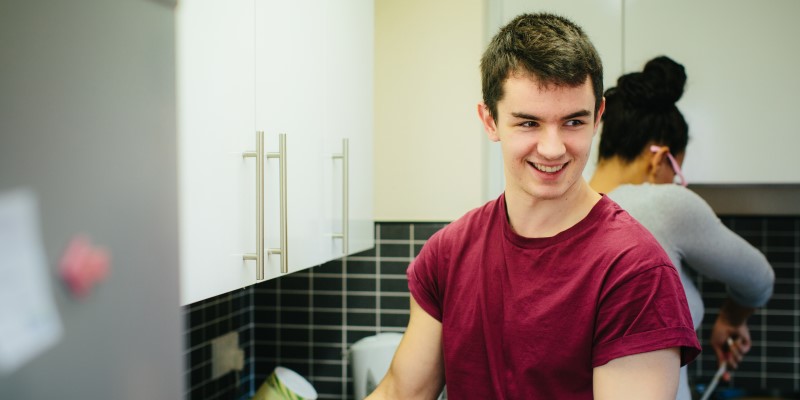 Once you move into your flat you will become part of a new student household. Please be considerate and look after one another to create a household and an environment where you will comfortable and secure together.
Households have formed an important part of the government's social distancing measures. If one member of your new household has a suspected or confirmed case of covid-19, then all household members may be required to self-isolate (subject to government advice or regulations). For this reason, it's important that you understand who is in your household.
If you are staying in a self-contained flat (all residences apart from Devonshire Hall, Ellerslie Global Residences and Oxley Residences) then your household consists of everyone who lives in that flat with you. If you are in Devonshire, Ellerslie or Oxley and your room does not form part of a self-contained flat, then your residence site team will identify the spaces that you've been allocated to use individually or as part of a household – such as your room, kitchen, lounge space and toilet and shower facilities.
Learning how to live happily and comfortable with others is always key element of your time in student accommodation and that will be especially important this year. Our Residence Life team will be offering support and events to help you bond together as a household. These will include events such as cooking demonstrations, crazy golf, outdoor cinema and much more.
What you should do:
Be considerate and look after one another to create a living space where you will be comfortable and secure together.
Follow the guidance that is in place to keep you and others safe. Always consider the impact of your actions on the other members of your household, or on the other households that live in your residence.
Just as you have been doing at home, you should regularly wash your hands and keep your flat clean.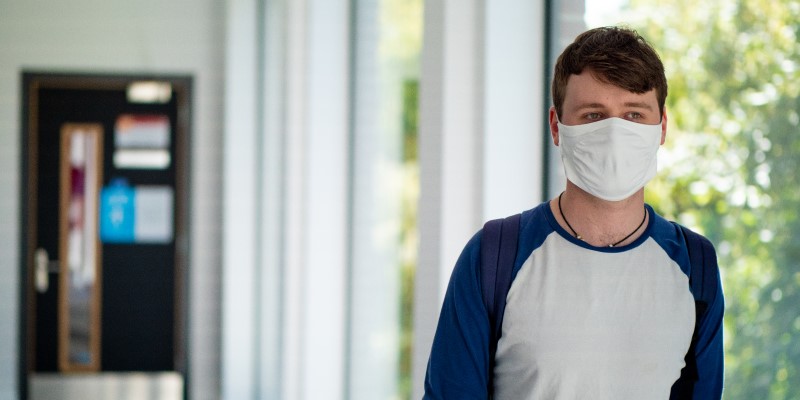 We're encouraging all members of the University to take a twice-weekly lateral flow test. Free testing kits are available on campus or you can order via the gov.uk website. If you do test positive you should follow government guidance and also report your positive test to the University and accommodation via our online form.
We also would encourage you to take advantage of the free covid-19 vaccination programme which will help protect you, your friends and the wider University and local community. You should have both jabs to receive the greatest protection for yourself and others. Getting both of your jabs will also help you to better enjoy your time in Leeds if some venues such as pubs, clubs or events require proof of vaccine status. Have a look at the University's vaccination information page to find out about nearby vaccine clinics.
The University is maintaining some social distancing measures across the campus and in our buildings where appropriate and necessary. In residences this may include asking you to keep a 1m distance from others outside of your household and limiting room capacities for common spaces.
As in the rest of the University, we will be asking you to wear a face covering (unless you are exempt) when moving through all public indoor spaces. This includes reception areas, main public corridors, in stairways and lifts and in those communal toilets located outside of your flat. This does not include inside your flat. Exceptions to this rule will likely be made in some social spaces and gym facilities. If this is the case, signage at the entrances to these spaces will advise you if you can remove your face covering whilst using the space and observing social distancing.
If you have formed a new student household, within your flat, you won't need to practice social distancing measures or wear a face covering inside the flat. You should still practice good hygiene measures, such as regularly washing your hands and regularly cleaning commonly touched surfaces.
What you should do:
Take a twice-weekly lateral flow test and report any positive test results to us.
Have both of your free covid-19 vaccinations.
Follow the guidance in place on signage around your residence. Please remember to respect others' wishes regarding keeping at distance – be mindful of those who are naturally more cautious.
Please wear a face covering whilst moving through indoor communal spaces.
Wash and/or sanitise your hands regularly.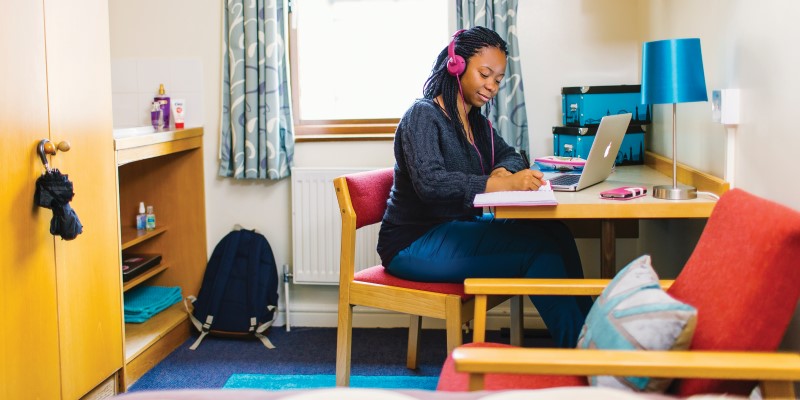 In our accommodation you can always contact someone if you need help, advice or just a chat. Staying with us means you'll benefit from our years of experience in providing excellent student support.
Residence team members will be available for you to contact at any time of the day or night. Our dedicated Residence Life team will provide you with personalised online, phone and face-to-face services to support you in situations when you might need some help. This could be anything from reporting that you're feeling ill to helping you to take care of yourself if you're unable to go out. Contact residencelife@leeds.ac.uk for any assistance.
If you do develop any symptoms of covid-19 such as a new continuous cough, a high temperature or a loss of, or change in, your normal sense of taste or smell you must report it to us immediately. You can do this by going to accommodation.leeds.ac.uk/selfisolate.
You should also arrange to get a covid-19 test as soon as possible. You can book an appointment through the NHS national booking website.
The Leeds University Union (LUU) Student Advice team are contactable during working hours if you have any queries or concerns. You can get in touch with them by email helpandsupport@luu.leeds.ac.uk or call 0113 380 1400. Your Student Exec have also setup the LUU Student Community Group on Facebook to help students come together. It's a great one stop shop for all the positives in the University of Leeds student community.
The University also offers additional support such as the Student Counselling and Wellbeing Service, which provides free professional and confidential counselling, wellbeing and mental health support.
The University's Security Services are, as ever, operating 24-hours a day, every day of the year. They offer crime prevention advice, patrol the campus and residences and respond to alarms or emergencies. You can call them on 0113 343 5495 or video call on WhatsApp 07876 866747.
What you should do:
Report your symptoms immediately if you begin to feel ill.
Use the support that's available from our Residence Life team, Leeds University Union or the Student Counselling and Wellbeing Service. They're here to help you whenever you need them.
Our Residence Life team is providing a tailored series of welcome and induction events, training and guidance to support you. There will be a whole host of activities, both in person and virtually, to ensure that you can still make friends and socialise in a safe and enjoyable way. These will range from virtual bingo, quizzes, games nights and sports classes – which you can enjoy from the comfort of your flat – to in-person activities such food trucks, group activities in the city centre, Pets as Therapy and more. You can find out what great activities are going on in your hall by joining your hall Facebook group or using the event calendars found in your flat.
In addition to events and activities, you'll also have a welcome talk from your Residence Life Warden to help you settle in.
Leeds University Union are also planning a range of digital and in-person activities. You can find out what they have planned here: welcome.luu.org.uk/whats-on. Clubs and societies are a huge part of life at Leeds and there are over 300 to get involved with. You can also find upcoming events on the University website leeds.ac.uk/events
When you're socialising it's important now – more than ever – to be mindful and considerate of the people around us, including others in the community such as local residents of areas like Hyde Park. Your actions reflect on the University and its reputation locally.
What you should do:
Like and follow @UoLResLife on Facebook to stay up to date with everything that's going on in your halls. You can also follow our Residence Life team on Instagram @uol_res_life.
Engage with the events and activities organised by our Residence Life team to make the most out your time in halls. Check out what's happening by visiting the events tab on the accommodation portal.
Make sure you check out what's being organised by Leeds University Union and their societies welcome.luu.org.uk/
Be respectful to others when visiting green spaces and parks by keeping your distance, not disturbing others and leaving the spaces clean and tidy for other visitors.
Be considerate to others both in your accommodation and in the wider community. Always consider the impact of your actions on others.
Things to remember
Am I being responsible about social distancing?
Always socially distance from others where that's required and possible
Please wear a face covering in indoor communal areas
Respect others and giving them space so they can feel safe
Follow rules that are in place to keep you and others safe
Consider the impact of your actions on other members of your household and other households within your residence
Am I following the appropriate hygiene measures?
Wash and sanitise your hands frequently
Clean kitchens and bathrooms as you use them and leave them clean for others to use
Am I exhibiting any of the known symptoms of covid-19? If yes, report it immediately.
Self-isolate if you have any symptoms of covid-19 and inform Residence Life team that you're unwell so they can offer help and support
Let your friends and staff in your residence know you're self-isolating. They can support offer more support if you need it
Am I struggling to settle in or make friends?
Contact the Residence Life team if you're having any problems or just need someone to talk to. You can email residencelife@leeds.ac.uk or call 0113 343 5068 during office hours, or contact your Residence Life Warden or Residence Life Assistants.