Devonshire Hall
A historic building in beautiful surroundings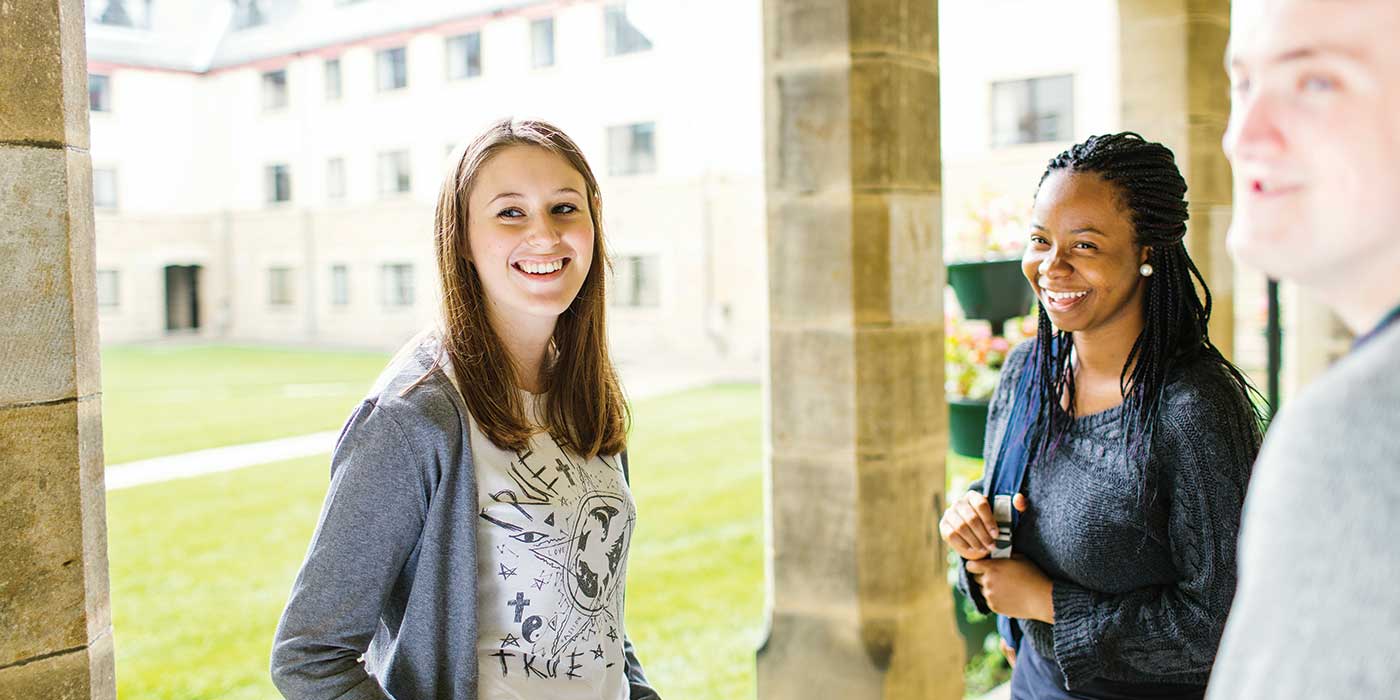 Devonshire Hall is the only student accommodation offering catered and self-catered options. The beautiful grounds are made up of an imposing main hall, converted Victorian mansion houses, and other new, purpose-built accommodation. The Hall is great for music and theatre enthusiasts, with practice rooms available as a rehearsal space.
Most rooms have a junior double or double size bed and some of the standard rooms have a wash basin. The foyer has a traditional fireplace with comfy chairs, where you can relax with your friends after a meal. With a strong music tradition, Devonshire will particularly appeal if you're interested in music or drama. You'll have the chance to get involved in a number of concerts and theatre performances throughout the year.
Close to James Baillie Park and North Hill Court, it's halfway between the University and the popular student suburb of Headingley. The campus is only a 10-minute walk away. Nearby is Woodhouse Ridge, a seven-mile waymarked footpath and part of the Meanwood Valley Trail. There is limited parking at the residence for permit holders only. To request a permit, fill out the parking permit application form.
Music and drama practice rooms, some with piano
Common room with satellite TV
Limited parking available
Contents insurance included in your rent
Security service on call 24/7
Efficient, responsive building maintenance
Catered accommodation provides two meals a day Monday to Saturday and lunch on Sundays during term time.
Meal times
Weekdays: Breakfast 7.30am – 9am Dinner 5.15pm – 6.45pm
Saturdays: Brunch 11am – 12.30pm Dinner 5.15pm – 6pm
Sundays: Lunch 12pm – 1.30pm
Formal meals
Gowns are issued before each formal dinner for you to wear. If you choose not to attend a formal meal, an early dinner is provided if you tell the wardens well in advance and get permission to be absent. Formal dinners for the year are: Arrival formal, Halloween, Christmas, Burns Night, St. Patricks Day and Awards night.
Vegetarian options available. Our chicken and lamb is approved by the Halal Monitoring Committee. A (cold) late meal can be booked with the Dining Room Supervisor in the morning if you are unable to attend a non-formal meal at the usual time.
Aluminium Composite Material (ACM) cladding has not been used in the construction of Devonshire Hall or its annexes.
Devonshire Hall and its annexes also have many features that enable the safe evacuation of individuals, including a fire detection and alarm system that exceeds legislative requirements. The automatic L (Life) type alarm system ensures that all areas of your residence are covered by detection, including bedrooms, kitchens, plant rooms, and communal areas. Other fire safety systems installed for your protection include:
Fire containment between rooms, flats and areas within buildings. Walls, ceilings and door sets are designed to resist and prevent the spread of fire long enough for you to safely escape the building.
Fire extinguishers and firefighting blankets in kitchens throughout the building(s).
In addition, we operate a system where local staff and fire wardens are trained to undertake proactive and reactive fire safety duties, which include building inspections and routine fire safety checks.
Rooms
Self catered, Catered
En-suite, Shared bathroom
Self catered en suite £137 - £146 per week / £5,754 - £6,132 total
Self catered shared bathroom £105 - £127 per week / £4,410 - £5,334 total
Catered shared bathroom £161 - £179 per week / £6,279 - £6,981 total
Catered en suite £186 - £200 per week / £7,254 - £7,800 total
You can compare costs of residences
Self catered shared bathroom : shared with 2- 4 people | Kitchen shared with 2 - 7 people
Catered shared bathroom : shared with 2- 4 other people.
* Due to refurbishment or vacation lettings some blocks may open later or close
earlier than others and as a result, some contracts may be slightly shorter.

Your rent includes
Electricity, gas and water
High-speed Wi-Fi
Off-peak sports and gym membership
DisabledGO
Providing independence and choice
Location, essentials and travel
Like Devonshire Hall?
You may also like
" Devonshire is an incredibly inclusive hall and everyone is so friendly and approachable. The student committee organises so many events throughout the year that it becomes very easy to make friends. Our formal dinners are great; everyone dresses up and wears University robes to have a sit-down meal together. We have our own sports teams, as well as drama and music clubs. "