Accommodation for staff
How we can help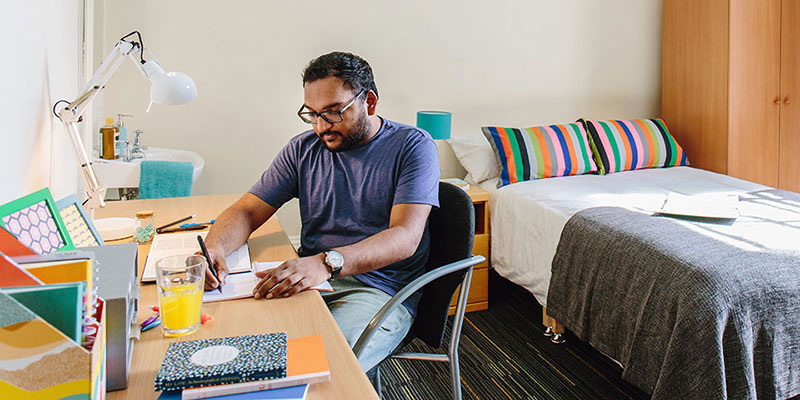 If you are a new member of staff at the University or a visiting academic, then the Accommodation Office may be able to help you find temporary accommodation.
The University of Leeds has a selection of property that is available to rent on a temporary basis* which might just suit your needs.There are several types of properties to choose from; from one-bedroom en suite rooms to two-bedroom houses.
If you are interested in renting staff accommodation, please fill out the online application form. Please be aware that due to the limited number of properties, it is not always possible to find a suitable vacancy and we are unable to guarantee that you will be allocated a property.
For visits shorter than three weeks, the University has on campus accommodation at Storm Jameson Court. You can book with a debit or credit card here, using the promotional code UOLSTAFF to get a reduced rate of £45 per room per night. If you wish to pay using a University account code, please contact the Conference and Events team at enquiries@meetinleeds.co.uk for details.
We can also provide you with a portfolio of hotels and serviced apartments. Please contact us at accom@leeds.ac.uk for details.
If you prefer to find permanent accommodation within the private sector then take a look at the links below which include all the information you need to get started, including house hunting tips, local and national websites to search and a list of NAEA & ARLA affiliated local estate agents.
Private sector
Unipol
Unipol is a registered charity which specialises in both student and professional housing. Website: www.unipol.org.uk/leeds
Spare Room
Find rooms/properties to rent, or advertise that you are looking for a room. Website: www.spareroom.co.uk
Zoopla
Search for property sales and rentals anywhere in the UK. Website: www.zoopla.co.uk
Right Move
One of the UK's prime search engines for finding properties to buy or rent. They also have several handy guides to house searching in the UK: www.rightmove.co.uk/
Airbnb
Airbnb is an online marketplace and hospitality service, enabling people to lease or rent short-term lodging including vacation rentals, apartment rentals, homestays, hostel beds, or hotel rooms: www.airbnb.co.uk/
On the Market
Search for properties both for sale and rent using their online portal: www.onthemarket.com
Useful links
Re-locate - University of Leeds
Here you can find all of the information you need about working for one of the world's most successful international universities.
If you are considering relocating to Leeds, whether nationally or internationally, this site aims to help you decide if this city is the right place for you and your family to live and work.
If you decide to join us, this site has lots of practical information and support to help make your move as easy as possible.
Website: relocate.leeds.ac.uk/
LUU's Guide to house hunting
Though originally aimed at students, the University's student union has produced a guide about house hunting in Leeds. The guide includes information on deposits and tenants' satisfaction rates with local landlords. Website: www.leedsuniversityunion.org.uk/helpandadvice/housing
Citizens Advice Bureau
The Citizens Advice Bureau provides free, confidential and independent advice from over 3,000 locations on debt, benefits, housing, legal, discrimination, employment, immigration, consumer and other problems. Website: www.citizensadvice.org.uk
Tenancy Deposit Protection
In England a Wales, if you pay a deposit to a private landlord or accommodation agency, your landlord must place it in a tenancy deposit protection scheme. This means you can be sure that you will get your deposit back at the end of the tenancy, as long as you are entitled to it. The scheme also provides a service to sort out any disagreements about the deposit between you and your landlord, without going to court. Website: www.direct.gov.uk
*NB The minimum contract length is three weeks and the maximum stay is 3 months.