Devonshire Hall
A historic building in beautiful surroundings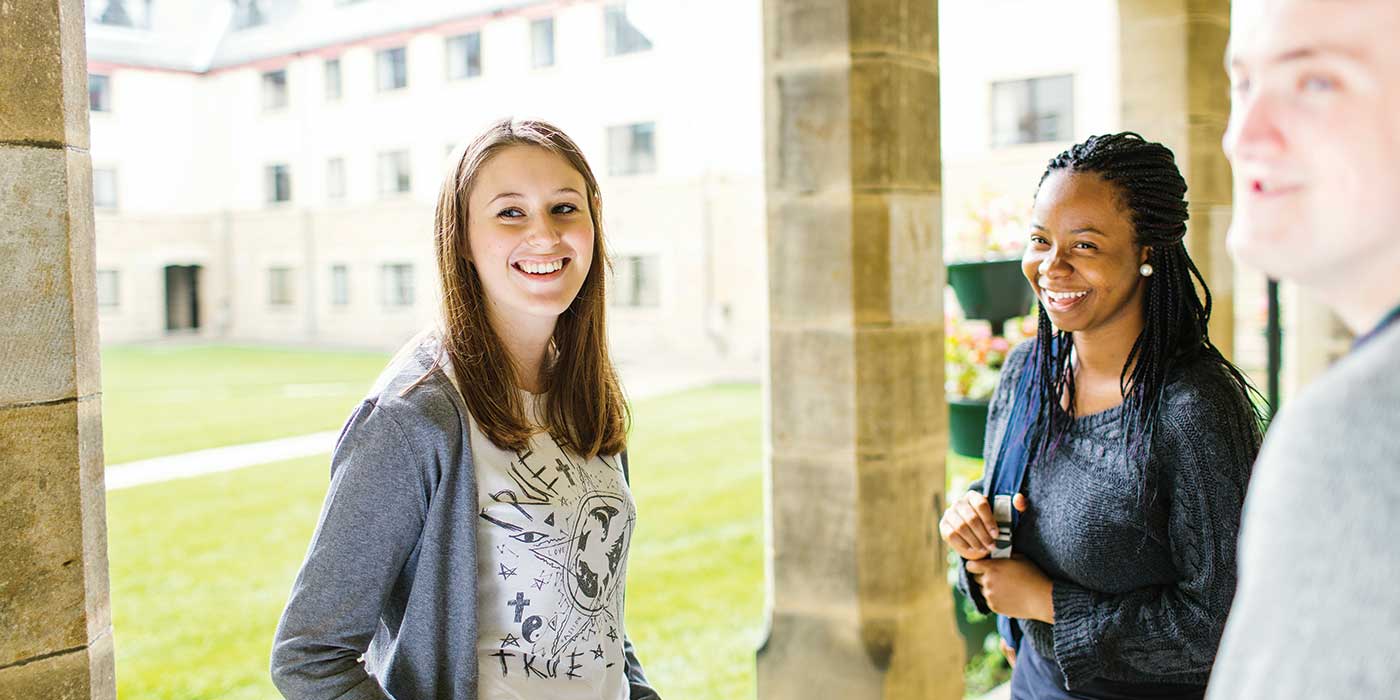 This historic site is in Headingley, within walking distance from the University.
Find out more about living in Headingley.
Most rooms have a junior double or double bed and some of the standard rooms have a wash basin, with some en suite rooms available. The foyer has a traditional fireplace with comfy chairs, where you can relax with your friends after a meal. Devonshire has a vibrant and active community so you can get involved with a number of concerts and theatre performances throughout the year. You will even have the opportunity to experience formal events ranging from Halloween balls to Burns Night celebrations.
Devonshire Hall is the only off campus student accommodation offering catered and self-catered options with the Devonshire Dining Hall located on site. The beautiful grounds are made up of an imposing main hall, converted Victorian mansion houses, and other new, purpose-built accommodation. The Hall is great for music and theatre enthusiasts, with practice rooms available as a rehearsal space. There are also great sporting facilities at the site, with a gym and a squash court.
There is limited parking at the residence for permit holders only. To request a permit, fill out the parking permit application form.
Read more about what you can expect to find in your room and flat.
"Devonshire is an incredibly inclusive hall and everyone is so friendly and approachable. The student committee organises so many events throughout the year that it becomes very easy to make friends. Our formal dinners are great; everyone dresses up and wears University robes to have a sit-down meal together. We have our own sports teams, as well as drama and music clubs."
Marieke van de Braak
Music and drama practice rooms, some with piano
Common room with satellite TV
Limited parking available
Contents insurance included in your rent
Security service on call 24/7
Efficient, responsive building maintenance
Catered accommodation provides two meals a day Monday to Saturday and lunch on Sundays during term time.
Meal times
Weekdays:
Breakfast 7.30am – 9.00am
Dinner 5.15pm - 6.45pm
Saturdays:
Brunch 11.00am – 12.30pm
Dinner 4.30pm – 6.00pm
Sundays:
Lunch 12.00pm – 1.30pm
Our food
Our menus are on display in the foyer on a 5 week cycle, and include Vegetarian, Vegan & Halal. Please speak to the chef for any other food allergy you would like to discuss.
Fresh fruit is available with every meal and a salad box is also available with dinner.
A late (cold) meal can be booked with the Dining Room team the day prior to you requiring this if you are unable to attend a term-time evening meal at the usual time slots.
Guests
Your guests can eat with you at non-formal meals too, just pay the dining room supervisor when you come through (contactless payments preferred)
Additional information about this service will be available for you to review in the Hall.
Devonshire Hall Formal Dinners
If you would like to attend a formal meal, you must sign up in advance as both catered and self-catered students are invited to attend and therefore seating is limited.
Gowns are issued before each formal dinner for you to wear. If you choose not to come to a formal meal, an early dinner is provided.
Formal meals that occur over the academic year are promoted within the Hall and usually include: Arrival formal lunch / Christmas / St. Patrick's Day / Awards Dinner
Sustainability
We believe in minimising food and catering waste and have reduced the use of single use plastics
We provide a water cooler in the foyer for you to replenish your water bottle
We have opportunities for you to engage in sustainable projects at Devonshire Hall such as looking after our chicken coup, allotment and food waste recycling initiatives
Aluminium Composite Material (ACM) cladding has not been used in the construction of Devonshire Hall or its annexes.
Devonshire Hall and its annexes also have many features that enable the safe evacuation of individuals, including a fire detection and alarm system that exceeds legislative requirements. The automatic L (Life) type alarm system ensures that all areas of your residence are covered by detection, including bedrooms, kitchens, plant rooms, and communal areas. Other fire safety systems installed for your protection include:
Fire containment between rooms, flats and areas within buildings. Walls, ceilings and door sets are designed to resist and prevent the spread of fire long enough for you to safely escape the building.
Fire extinguishers and firefighting blankets in kitchens throughout the building(s).
In addition, we operate a system where local staff and fire wardens are trained to undertake proactive and reactive fire safety duties, which include building inspections and routine fire safety checks.
Great Food at Leeds
Great Food at Leeds (GFaL) is the University of Leeds catering service on campus, providing students with quality, fresh food at competitive prices. There are GFaL outlets located across campus for your convenience, so whether you're looking for a coffee to takeaway or you fancy sitting down to a hot meal, there are plenty of options.

Food Bundles
Food Bundles are available to all students living in University of Leeds accommodation and allow you to pre-load credit for meals in advance, to spend at any Great Food at Leeds operated cafés on campus.
Benefits include:
• The bigger the bundle, the better the value, get up to 25% EXTRA FREE food and drink credit!
• Flexibility to use credits at any Great Food at Leeds operated café and the Refectory, anytime
• Enjoy a wide-range of delicious dishes and freshly made sandwiches, salads and snacks each day
• Powered by the Great Food at Leeds Club App, making it easy to pay for food and drink on campus
Rooms
Self catered, Catered
En-suite, Shared bathroom
Self catered en suite £158 - £168 per week / £6,634 - £7,070 total
Self catered shared bathroom £119 - £155 per week / £4,995 - £6,510 total
Catered shared bathroom £188 - £209 per week / £7,322 - £8,131 total
Catered en suite £217 - £232 per week / £8,459 - £9,066 total
You can compare costs of residences
Self catered en suite : 42 week contract*.
Self catered shared bathroom : 42 week contract*. shared with 2- 4 people | Kitchen shared with 2 - 7 people
Catered shared bathroom : 39 week contract*. shared with 2- 4 other people.
Catered en suite : 39 week contract*.
* Due to refurbishment or vacation lettings some blocks may open later or close
earlier than others and as a result, some contracts may be slightly shorter.

Your rent includes
Electricity, gas and water
Off-peak sports and gym membership
All rooms include
AccessAble
Providing independence and choice
Location, essentials and travel
Like Devonshire Hall?
You may also like