Charles Morris Hall
Modern, on-campus accommodation in three residences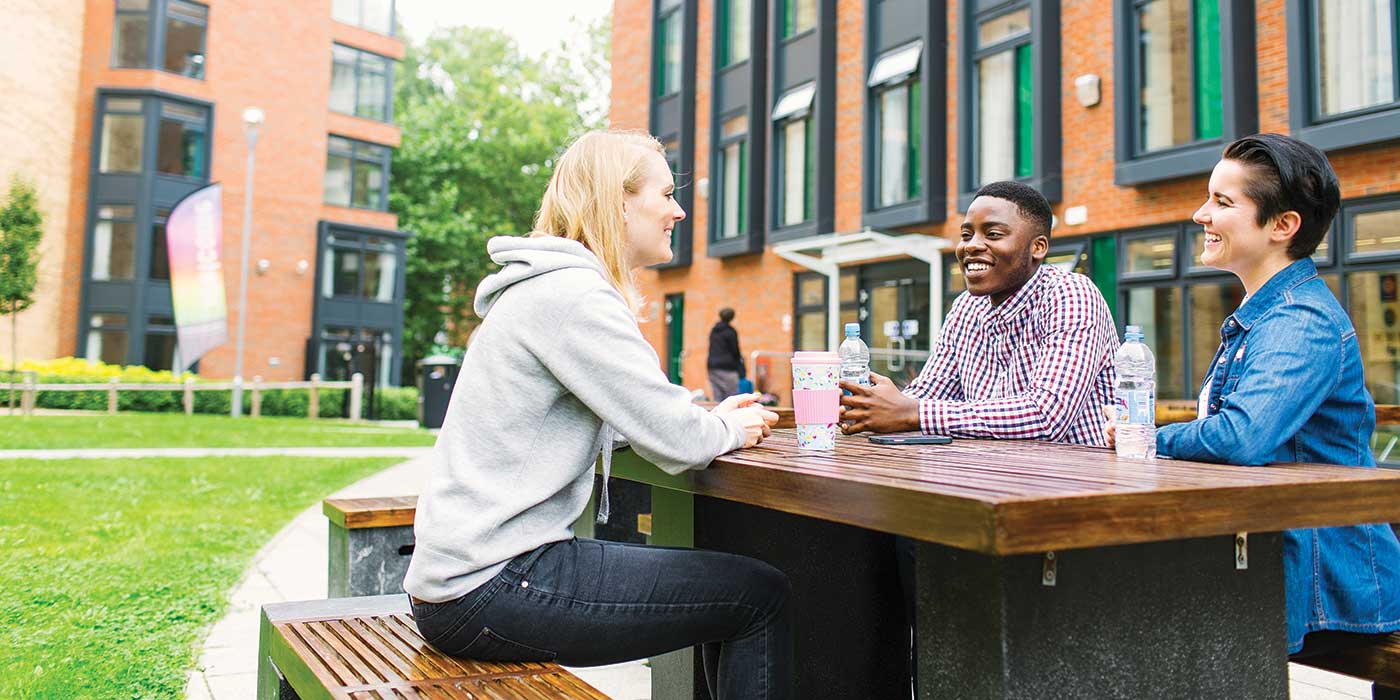 This popular residence is right on campus, meaning there's only a short walk to the bars and cafes in the students' union and the University's teaching spaces. You're also on the doorstep of the Edge – our sports facility. A delicious selection of meals is provided daily in the Refectory as part of your contract.
The residence comprises of three parts, the newly-built Storm Jameson Court, and two smaller refurbished annexes, Dobree and Whetton Houses. Storm Jameson Court is a hotel-style complex. Rooms are en suite with junior double beds, a safe and telephone. Kitchens have a TV and are shared by around six students. Most rooms in Dobree and Whetton Houses have single beds and share a bathroom with one other person.
You'll enjoy home comforts in your flat or on your corridor, such as flat-screen TV, comfy chairs and lots of fridge freezer space. There's also a well-equipped common room for everyone (in the East block of Storm Jameson) with pool tables, projector TV and comfy chairs. There are laundry facilities, cycle storage and disabled parking.
Read more about what you can expect to find in your room and flat.
Common room with pool tables and TVs
Contents insurance included in your rent
Security service on call 24/7
Efficient, responsive building maintenance
Catered residents at Charles Morris Hall can eat in the Refectory, next to the Students' Union. You will receive a Great Food at Leeds (GFaL) Club meal plan card or app which can be used to purchase meals. The meal plan enables you to purchase breakfast and an evening meal Monday to Friday, and brunch at weekends.
Meal times
Weekdays: All day 8am – 7pm
Weekends: Brunch 10am – 2pm
At least one vegetarian option at each meal. During Ramadan, we can provide for you to eat after sunset. Please make us aware of any special dietary requirements (e.g. diabetes) or food allergy so we can assist you any way we can. If you are very specific about the food you like to eat, you may find that a self-catered residence would be more suitable for you.
Aluminium Composite Material (ACM) cladding has not been used in the construction of Charles Morris Hall.
Charles Morris Hall also has many features that enable the safe evacuation of individuals, including a fire detection and alarm system that exceeds legislative requirements. The automatic L (Life) type alarm system ensures that all areas of your residence are covered by detection, including bedrooms, kitchens, plant rooms, and communal areas. Other fire safety systems installed for your protection include:
Fire containment between rooms, flats and areas within buildings. Walls, ceilings and door sets are designed to resist and prevent the spread of fire long enough for you to safely escape the building.
A dry riser system to be used by the fire brigade in a situation where they want to use their fire hoses on any level of your building.
Fire extinguishers and firefighting blankets in kitchens throughout the building(s).
A firefighting lift/elevator for use by fire fighters to assist them to get quick access to all building floors to put out a fire and help residents leave the building.(in Storm Jameson East)
In addition, we operate a system where local staff and fire wardens are trained to undertake proactive and reactive fire safety duties, which include building inspections and routine fire safety checks.
Rooms
Shared bathroom, En-suite
Storm Jameson Court en suite £204 - £211 per week / £7,956 - £8,229 total
Dobree and Whetton en suite £189 per week / £7,371 total
Dobree and Whetton shared bathroom £178 per week / £6,942 total
You can compare costs of residences
Dobree and Whetton shared bathroom : shared with 1 other person
* Due to refurbishment or vacation lettings some blocks may open later or close
earlier than others and as a result, some contracts may be slightly shorter.

Your rent includes
Electricity, gas and water
Off-peak sports and gym membership
All rooms include
Bed and mattress
Wardrobe
Study table and chair
Shelving and storage
Noticeboard
Access to a shared kitchen
Read more in furniture and facilities
AccessAble
Providing independence and choice
Location, essentials and travel
Like Charles Morris Hall?
You may also like
Sophie Buck, BSc Medical Sciences
" I'm in Dobree House in Charles Morris – my room is spacious and there is a huge desk which I absolutely love. Charles Morris is in the perfect location, with brand new facilities and an excellent common room. The staff and sub-wardens here are so sweet and helpful and are there if you ever need anything. I'm also so close to everything on the campus."