Ellerslie Global Residence
Homely multi-cultural residence in a row of Victorian town houses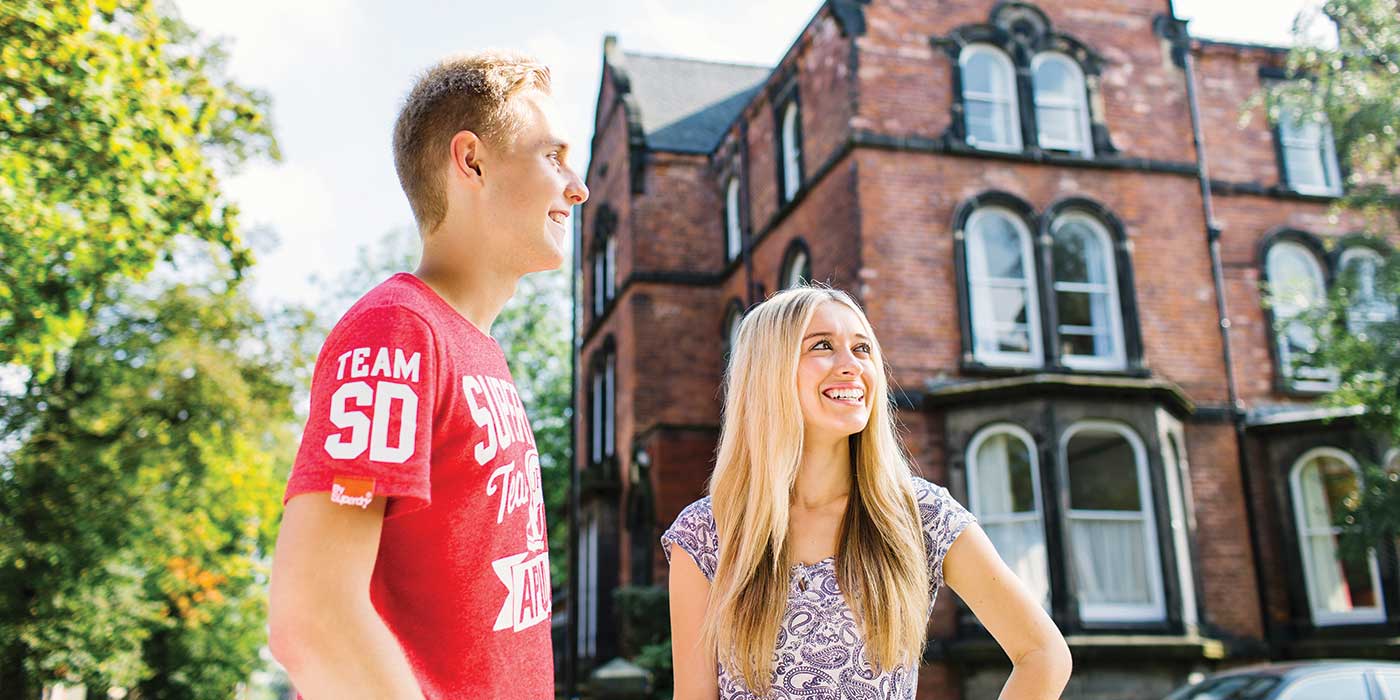 Right on campus, just across from a public park, this attractive residence offers a friendly, multi-cultural environment. With half of Ellerslie residents from the UK and half from all over the world, you'll have a unique opportunity to broaden your horizons and build a global network of friends.
You can get involved in intercultural events throughout the year, from film screenings to swing dance classes, learning about other cultures and sharing your own. There may be opportunities for foreign language exchange and one of the common rooms has international TV, so you can keep up to date with the latest international news, sport and programmes from around the world.
There's a main hall and two annexes of refurbished Victorian terraced houses. The residence office and the main communal areas - common rooms with comfy sofas, TVs and a piano – are in the main hall. You have laundry facilities and cycle storage. Accommodation is mainly in standard rooms with shared bathrooms, with some en-suite rooms available.
Read more about what you can expect to find in your room and flat.
Practice room with baby grand piano
Contents insurance included in your rent
Security service on call 24/7
Efficient, responsive building maintenance
Catered residents at Ellerslie can eat in the Refectory, next to the Students' Union. You will receive a Great Food at Leeds (GFaL) Club meal plan card or app which can be used to purchase meals. The meal plan enables you to purchase breakfast and an evening meal Monday to Friday, and brunch on weekends.
Meal times
Weekdays: All day 8 am - 7 pm
Weekends: Brunch 10 am - 2 pm
At least one vegetarian option at each meal. During Ramadan, we can provide for you to eat after sunset. Please make us aware of any special dietary requirements (e.g. diabetes) or food allergy so we can assist you any way we can. If you are very specific about the food you like to eat, you may find that a self-catered residence would be more suitable for you.
Aluminium Composite Material (ACM) cladding has not been used in the construction of Ellerslie Hall or its annexes.
Ellerslie Hall and its annexes also have many features that enable the safe evacuation of individuals, including a fire detection and alarm system that exceeds legislative requirements. The automatic L (Life) type alarm system ensures that all areas of your residence are covered by detection, including bedrooms, kitchens, plant rooms, and communal areas. Other fire safety systems installed for your protection include:
Fire containment between rooms, flats and areas within buildings. Walls, ceilings and door sets are designed to resist and prevent the spread of fire long enough for you to safely escape the building.
Fire extinguishers and firefighting blankets in kitchens throughout the building(s).
In addition, we operate a system where local staff and fire wardens are trained to undertake proactive and reactive fire safety duties, which include building inspections and routine fire safety checks.
Rooms
Shared bathroom, En-suite
En suite £196 - £208 per week / £7,644 - £8,112 total
Shared bathroom £162 - £190 per week / £6,318 - £7,410 total
You can compare costs of residences
Shared bathroom : shared with 4 other people
* Due to refurbishment or vacation lettings some blocks may open later or close
earlier than others and as a result, some contracts may be slightly shorter.

Your rent includes
Electricity, gas and water
Off-peak sports and gym membership
All rooms include
Bed and mattress
Wardrobe
Study table and chair
Shelving and storage
Noticeboard
Access to a shared kitchen
Read more in furniture and facilities
AccessAble
Providing independence and choice
Location, essentials and travel
Like Ellerslie Global Residence?
You may also like
Joshua Gammie, BEng Medical Engineering
" The best thing about living in Ellerslie is the social atmosphere – you get to meet so many cool, amazing people from all over the world who are studying a wide range of subjects so it never gets boring! I think living in a catered residence is good for first years because you get to spend meal times with friends instead of cooking for yourself, and it means you worry about less things in your first year."