James Baillie Park
A great location and beautiful surroundings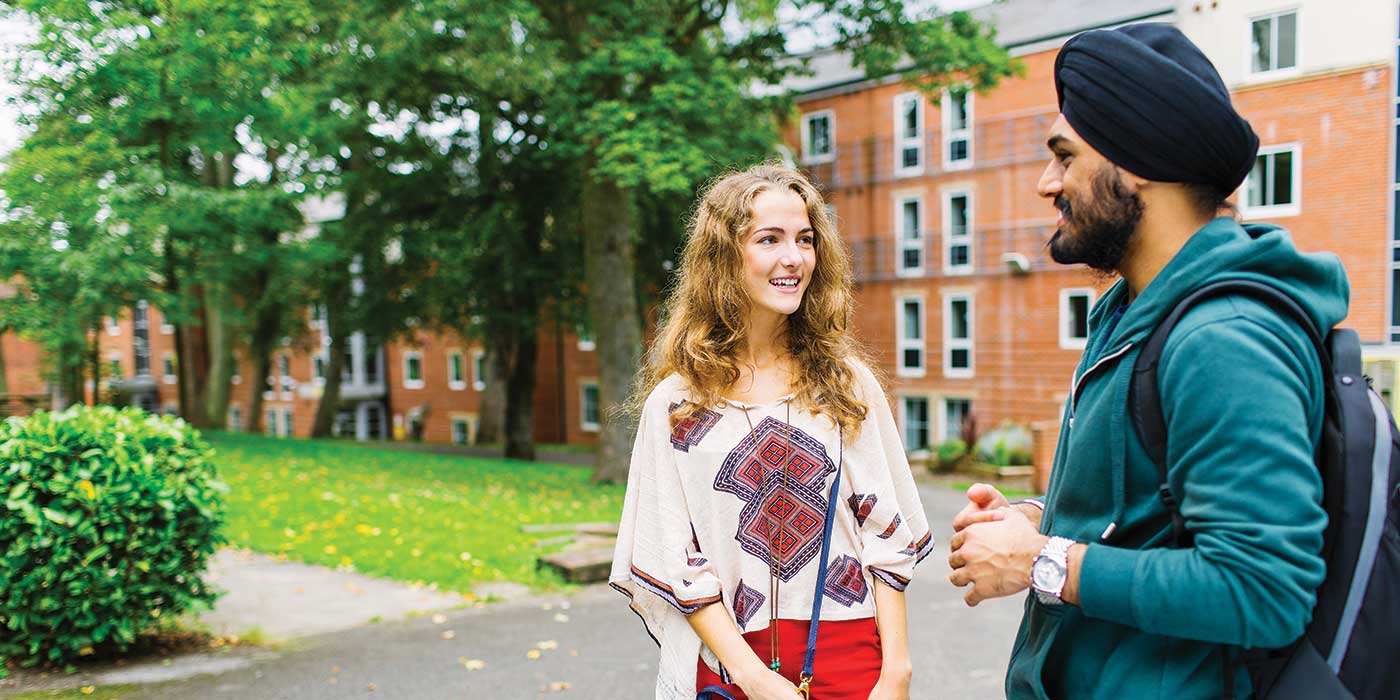 Run in partnership with UNITE, the attractive apartment blocks of James Baillie Park are halfway between the University campus and the popular student suburb of Headingley. There's a nature reserve just behind the residence, with woodland walks down to the city centre, giving you the best of all worlds.
Most rooms are en suite and all have a double bed. En suite rooms are grouped into flats of four, five or six and share a kitchen and lounge area. There are also standard rooms, where three students share a bathroom and kitchen, and some single en suite studios. The common room has digital TV, a pool table and games machine. There are laundry and cycle storage facilities.
Close to North Hill Court and Devonshire Hall, James Baillie Park is only a 20-minute walk away from the University, or there is a frequent bus service running until 3am to and from campus and the city centre. There is limited parking at the residence for permit holders only. To request a permit, contact the Residence office.
Read more about what you can expect to find in your room and flat.
Pool table and games machine
Common room with digital TV
Limited parking available
Contents insurance included in your rent
Security service on call 24/7
Efficient, responsive building maintenance
Aluminium Composite Material (ACM) cladding has not been used in the construction of James Baillie Park.
James Baillie Park also has many features that enable the safe evacuation of individuals, including a fire detection and alarm system that exceeds legislative requirements. The automatic L (Life) type alarm system ensures that all areas of your residence are covered by detection, including bedrooms, kitchens, plant rooms, and communal areas. Other fire safety systems installed for your protection include:
Fire containment between rooms, flats and areas within buildings. Walls, ceilings and door sets are designed to resist and prevent the spread of fire long enough for you to safely escape the building.
Fire blankets in kitchens throughout the building(s).
In addition, we operate a system where local staff and fire wardens are trained to undertake proactive and reactive fire safety duties, which include building inspections and routine fire safety checks.
Rooms
Shared bathroom, En-suite, Studio
Self catered studio £181 - £201 per week / £7,602 - £8,442 total
Self catered en suite £153 - £173 per week / £6,426 - £7,266 total
Self catered shared bathroom £130 - £145 per week / £5,460 - £6,090 total
You can compare costs of residences
Self catered studio : 42 week contract*.
Self catered en suite : 42 week contract*.
Self catered shared bathroom : 42 week contract*. shared with 2 other people | Kitchen shared with: 3-5 other people
* Due to refurbishment or vacation lettings some blocks may open later or close
earlier than others and as a result, some contracts may be slightly shorter.

Your rent includes
Electricity, gas and water
Off-peak sports and gym membership
All rooms include
Bed and mattress
Wardrobe
Study table and chair
Shelving and storage
Noticeboard
Access to a shared kitchen
Read more in furniture and facilities
Location, essentials and travel
Like James Baillie Park?
You may also like
Sophie Strickland-Clark, BA Theatre and Performance
"Out of the residences I visited, James Baillie was definitely my favourite. It has a real homely feel; the layout of the flats mean that everyone's close together and we all get on so well. It's just the right distance away from campus to give you some space from University and your workload, but without making the morning commute too much of a mission!"