Lyddon Hall
A large hall and several beautiful Victorian houses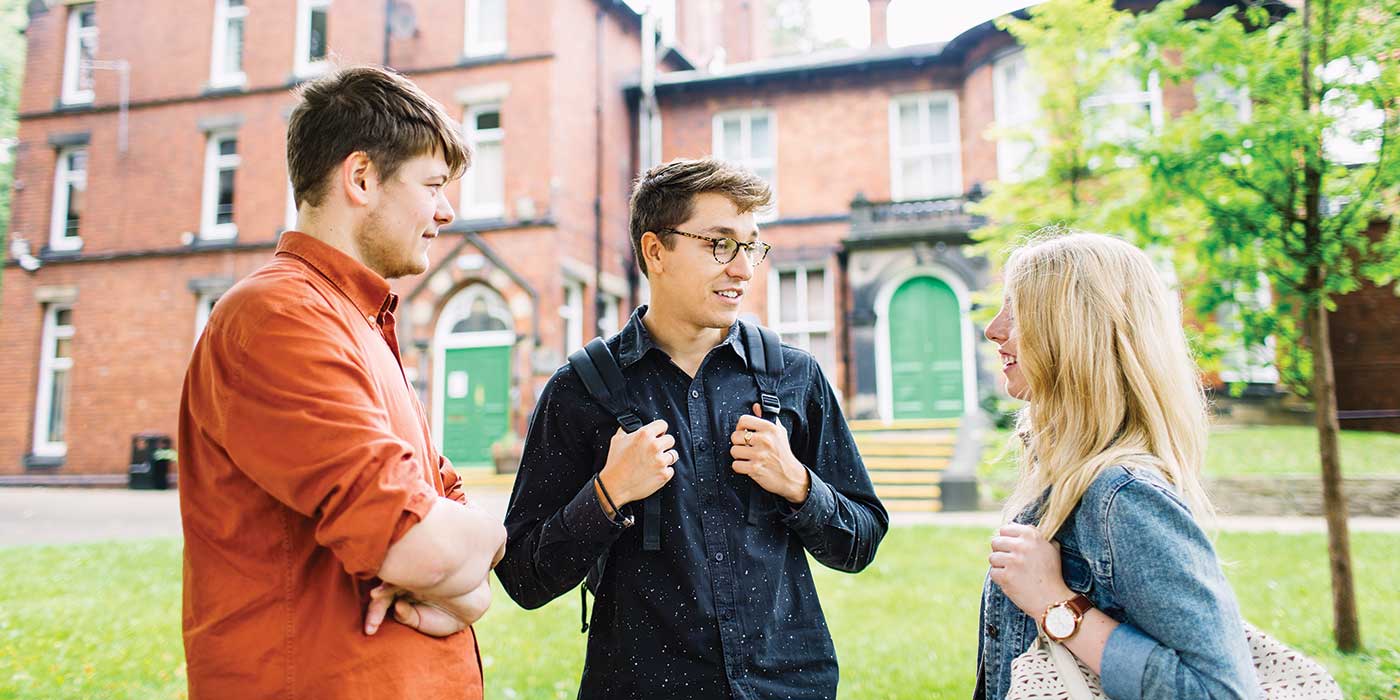 Right next to the students' union and the refectory, Lyddon Hall combines the convenience of being on campus with traditional surroundings. Our oldest residence, Lyddon Hall is full of quirky character. It's made up of a large main hall and several beautiful Victorian houses.
Rooms are spacious and furniture isn't fixed, so you can move it around to suit yourself. Most rooms are standard, with shared bathroom, some also have a washbasin in the room. There are a small number of en suite rooms. Some rooms have a double bed.
Lyddon offers great facilities, including a well-stocked library with a grand piano. There's also a large TV room with a pool table. This residence has a traditional feel, reflecting its Victorian charm.
Read more about what you can expect to find in your room and flat.
Bluther Leipzig grand piano
Sports facilities nearby on campus
Contents insurance included in your rent
Security service on call 24/7
Efficient, responsive building maintenance
As part of the catered accommodation package, the Great Food at Leeds Meal Plan enables you to enjoy a delicious selection of home-style meals and grab and go items in the award-winning Refectory and Hugo, the Camionnette Café on campus.

How it works
Your meal plan is topped up daily during term time with credit that can be spent in The Refectory and at Hugo, the Camionnette Café. Students can access their Meal Plan credit via the Great Food at Leeds Club card or app.
Meal Times
WEEKDAYS 8am - 6.30pm (£12.50 per day*)
WEEKENDS 10am - 2pm (£6.85 per day*)
*Unused credit will not be carried over to the following day
The Refectory
Located right at the heart of the University campus, the contemporary Refectory restaurant offers a wide range of home-style food each day. Our mouth-watering menus are freshly prepared by our award-winning chefs on campus and we offer a choice of breakfast (served 8- 11am) hand-crafted Hot Sandwiches, Deli Bar, Salad Bar, Vegan Bar, Pizza and Pasta, Hot Wok, Food from around the World, heat at home ready meals, vegetable boxes, and more – we guarantee you'll be spoilt for choice!
Hugo, the Camionnette Café,
Hugo is one of the more unique members of the Great Food at Leeds team and sells a range of delicious products including coffees, croissants, and fresh sandwiches for lunch as well as scrummy pastries.
He's conveniently located on the main precinct, so you can easily grab a bite for breakfast on your way into the University or grab a quick lunch or snack on the go.
Great Food at Leeds are committed to providing healthy and fresh food for customers with different dietary requirements and we can provide a selection of gluten-free and Halal certified products
Aluminium Composite Material (ACM) cladding has not been used in the construction of Lyddon Hall or its annexes.
Lyddon Hall and its annexes also have many features that enable the safe evacuation of individuals, including a fire detection and alarm system that exceeds legislative requirements. The automatic L (Life) type alarm system ensures that all areas of your residence are covered by detection, including bedrooms, kitchens, plant rooms, and communal areas. Other fire safety systems installed for your protection include:
Fire containment between rooms, flats and areas within buildings. Walls, ceilings and door sets are designed to resist and prevent the spread of fire long enough for you to safely escape the building.
Fire extinguishers and firefighting blankets in kitchens throughout the building(s).
In addition, we operate a system where local staff and fire wardens are trained to undertake proactive and reactive fire safety duties, which include building inspections and routine fire safety checks.
Rooms
Shared bathroom, En-suite
Catered en suite £202 - £216 per week / £7,861 - £8,417 total
Catered shared bathroom £166 - £195 per week / £6,474 - £7,605 total
You can compare costs of residences
Catered en suite : 39 week contract*.
Catered shared bathroom : 39 week contract*. with 1-3 other people
* Due to refurbishment or vacation lettings some blocks may open later or close
earlier than others and as a result, some contracts may be slightly shorter.

Your rent includes
Electricity, gas and water
Off-peak sports and gym membership
All rooms include
Bed and mattress
Wardrobe
Study table and chair
Shelving and storage
Noticeboard
Access to a shared kitchen
Read more in furniture and facilities
AccessAble
Providing independence and choice
Location, essentials and travel
Like Lyddon Hall?
You may also like
Georgia Thompson, BA English and History
"I picked Lyddon due to its location on campus and its homely feel. It's like a large house with annexes and has a relaxed vibe, it feels like one big family here. The Refectory is next door so it's very easy to get our meals and it also means that we interact with the neighbouring catered halls too, like Ellerslie and Charles Morris. Moving into halls was scary at first, but everyone socialised and we all got to know each other very quickly."