Good clean muddy fun with Yorkshire Wildlife Trust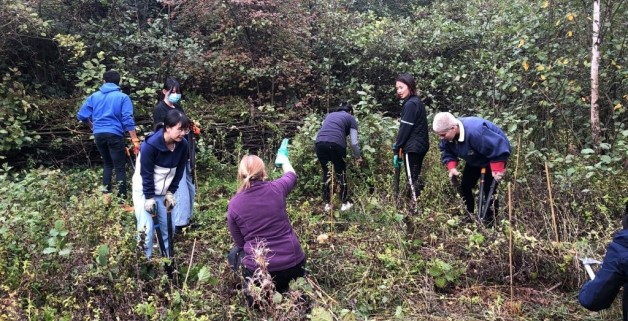 One of the great things about studying in Leeds is getting all the benefits of big city life while being just a short minibus ride away from some of the UK's most beautiful countryside.
We're so lucky to have that balance, and we love to give our residents as many opportunities as possible to disconnect from the stresses and strains of university life and connect with nature.
In line with the University's commitment to embedding sustainability in everything we do, we also want to make sure we're raising awareness of local environmental issues and helping to tackle them in any way that we can. That's why, around the middle of each month during term time, a group of students and staff who live and work in our residences troop out into the countryside surrounding Leeds to volunteer with the Yorkshire Wildlife Trust.
As well as looking after over 100 nature reserves across Yorkshire, the Trust works with local partners and landowners in their mission to conserve, protect, and restore local wildlife and wild places.
On one of our Wild Work Days, based around the Upper Aire Valley, volunteers might find themselves clearing scrub, planting trees, or working in and around ponds and streams. Small interventions like these can have a huge impact, helping to steer nature in the right direction and correcting past actions that have led to climate change.
As we say in Yorkshire, it's often "good weather for ducks" on the day, so wellies and waterproofs are strongly recommended, but everything else is provided, including tools, transport, and a hearty packed lunch!
Keep an eye on your inbox for updates if you'd like to join us next time for some good clean muddy fun, but you'll have to act fast – spots are limited and always fill up quickly! Our next Wild Work Day will be on Wednesday 19 April at Arthur's Rein nature reserve in Wykebeck Woods. To sign up, email Mike Leonard at m.leonard@adm.leeds.ac.uk to secure your place.
You might also be interested in volunteering to help transform our Well Wood behind North Hill Court and James Baillie Park. This will be a communal green space for students and staff from the University of Leeds and Unite Students, providing a calming natural oasis for visitors and a safe haven for local wildlife by promoting biodiversity. 
We'll be heading to North Hill Well Wood on Wednesday 22 March to get to work on planting a hornbeam hedge, so if you want to get involved, so head over to StarRez to sign up!
Residence Life team
Photo courtesy of Victoria Ma