Leodis Residences
Style and convenience in one our largest residences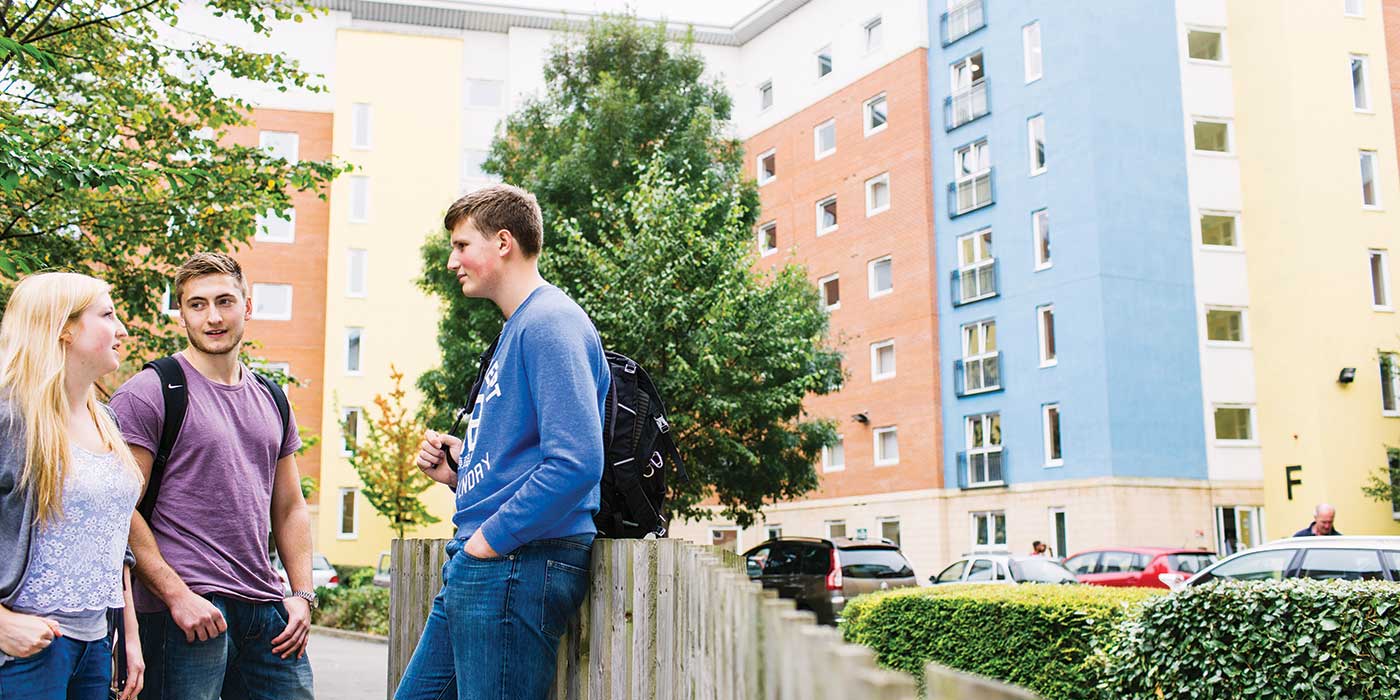 Leodis is an attractive modern complex just 8 minutes' walk from the University and 15 minutes' walk from the city centre. It offers modern, newly refurbished, en suite rooms with junior double beds. There is a common room with satellite TV, DVD player and pool table.
With over 700 students, Leodis is one of our largest residences and one of the closest to campus. It offers lots of great places to socialise, including a common room with a large screen TV and pool table, as well as its own outdoor picnic and barbecue area.
This residence is run in partnership with Collegiate-ac group, consists of nine accommodation blocks and students are typically grouped six to a flat, sharing a large open-plan kitchen and living space. There are also four standard rooms adapted for wheelchair users, with a bathroom shared between two.
There are additional charges for parking and spaces are limited. Parking is for permit holders only, to apply for a permit please download and complete the application form.
Read more about what you can expect to find in your room and flat.
Laundry facilities on site
Common room with TV and DVD
Limited parking available
Contents insurance included in your rent
Security service on call 24/7
Efficient, responsive building maintenance
Aluminium Composite Material (ACM) cladding has not been used in the construction of Leodis Residence.
Leodis Residence also has many features that enable the safe evacuation of individuals, including a fire detection and alarm system that exceeds legislative requirements. The automatic L (Life) type alarm system ensures that all areas of your residence are covered by detection, including bedrooms, kitchens, plant rooms, and communal areas. Other fire safety systems installed for your protection include:
Fire containment between rooms, flats and areas within buildings. Walls, ceilings and door sets are designed to resist and prevent the spread of fire long enough for you to safely escape the building.
Fire blankets in kitchens throughout the building(s).
In addition, we operate a system where local staff and fire wardens are trained to undertake proactive and reactive fire safety duties, which include building inspections and routine fire safety checks.
Self catered en suite : 42 week contract*. Kitchen shared with 3-5 other people
* Due to refurbishment or vacation lettings some blocks may open later or close
earlier than others and as a result, some contracts may be slightly shorter.

Your rent includes
Electricity, gas and water
Off-peak sports and gym membership
All rooms include
Bed and mattress
Wardrobe
Study table and chair
Shelving and storage
Noticeboard
Access to a shared kitchen
Read more in furniture and facilities
AccessAble
Providing independence and choice
Location, essentials and travel
Like Leodis Residences?
You may also like
Iulia-Teodora Andrei, BA English Literature
" Leodis is close to campus and with so many students living here, you become part of a community – I have made so many great friends, and my flatmates have become like family to me. Moving into halls felt really daunting and stressful before I arrived in Leeds, but once I settled in I realised that it was the first step to maturity and the university experience."