CitySide
Right on the University's doorstep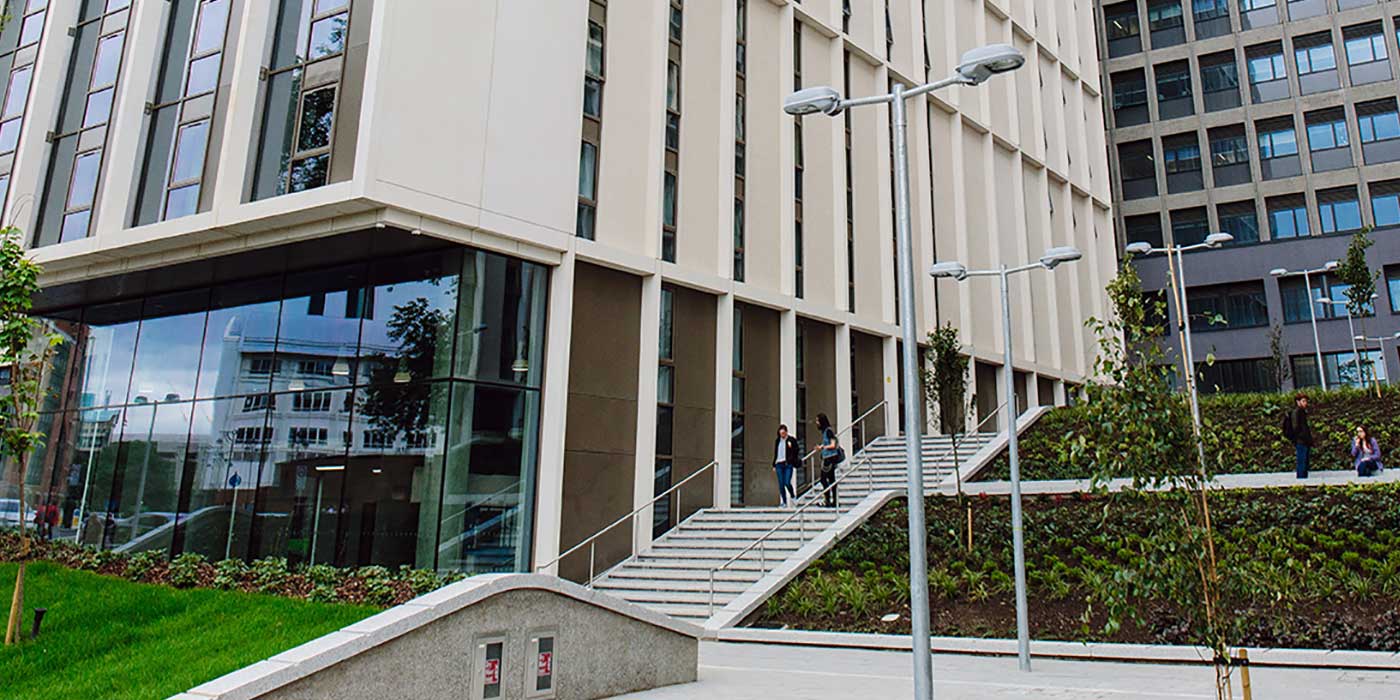 CitySide offers brand new, purpose-built flats right on the University's doorstep. You're on the edge of campus and less than ten minutes' walk from the city centre, with easy access to cafés, supermarkets, bars, shops and restaurants.
Run in partnership with Downing Students and all accommodation is en suite, with some premium (slightly larger) rooms. Five or six rooms share a communal kitchen, dining and living area – an ideal space to socialise with your flatmates.
There's an on-site gym and a large, state-of-the-art common room provides an open space for you to watch TV, meet fellow residents, play games, listen to music or just relax after lectures. There's high-speed broadband throughout the building and laundry and cycle storage facilities.
Some building works will be taking place until October or November 2020 on the land next to CitySide. Although these works are internal and so should not cause much disturbance, there may be some noise from construction traffic to this site.
Where building works have taken place previously, most of our students have not found this noise an inconvenience but, if you are somebody who is particularly sensitive to noise, you may prefer to consider another residence.
Read more about what you can expect to find in your room and flat.
Pool table and table football
Contents insurance included in your rent
Security service on call 24/7
Efficient, responsive building maintenance
Aluminium Composite Material (ACM) cladding has not been used in the construction of CitySide.
CitySide also has many features that enable the safe evacuation of individuals, including a fire detection and alarm system that exceeds legislative requirements. The automatic L (Life) type alarm system ensures that all areas of your residence are covered by detection, including bedrooms, kitchens, plant rooms, and communal areas. Other fire safety systems installed for your protection include:
Fire containment between rooms, flats and areas within buildings. Walls, ceilings and door sets are designed to resist and prevent the spread of fire long enough for you to safely escape the building.
An installed sprinkler system.
A dry riser system to be used by the fire brigade in a situation where they want to use their fire hoses on any level of your building.
A firefighting lift/elevator for use by fire fighters to assist them to get quick access to all building floors to put out a fire and help residents leave the building
Fire extinguishers and/or firefighting blankets throughout the building(s).
In addition, we operate a system where local staff and fire wardens are trained to undertake proactive and reactive fire safety duties, which include building inspections and routine fire safety checks.
Self catered en suite : 43 week contract*.
* Due to refurbishment or vacation lettings some blocks may open later or close
earlier than others and as a result, some contracts may be slightly shorter.

Your rent includes
Electricity, gas and water
Off-peak sports and gym membership
All rooms include
Bed and mattress
Wardrobe
Study table and chair
Shelving and storage
Noticeboard
Access to a shared kitchen
Read more in furniture and facilities
Location, essentials and travel
Like CitySide?
You may also like
Will Faust, MEng, BEng Mechanical Engineering
" Being a new building, CitySide's facilities are modern, with an on-site laundrette, games room, study room and a small blackout room/cinema area. With the mini-supermarket right next door, I've found it incredibly convenient and easy to live comfortably day to day, with most things I need on my doorstep."